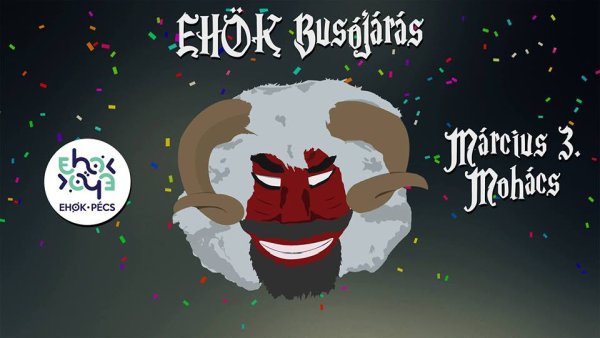 Busó Carnival of Mohács 2019
Student Union of PTE (PTE EHÖK) is organizing a trip to the exciting and scary Busó Festival of Mohács. This year we are going to take the bravest students to the Festival with 5 buses.

Programme:
8:45 – Departure: at 8:45 from the City Library (Pécs, Universitas u. 2/A, 7622)
10:00 – Arriving to Mohács, tea and mulled wine are provided at the Ifjúsági centrum
13:00- Lunch ( Bean Goulash) at the Ifjúsági centrum
18:45 – Gathering at the Ifjúsági centrum

Fee of the participation: 2500 HUF/ person (if you have a PTE Student Card)
This price includes the transfer to Mohács and back to Pécs, a mug, a mug of mulled wine/tea and lunch.
The tickets can be bought at the PTE EHÖK office (Vasvári Pál str. 4, Pécs, in the Rector's Office's backyard, in the EHÖK building).
Ticket sale starts from 29th January (Monday).
The office is open from 10AM to noon and from 1PM to 2PM.